Wow, time passed by pretty quickly. The last time I wrote here is during my semester break in October-December 2015 and now I'm done with my Foundation year! I can't believe that it's already over. After our last paper ended yesterday, I wasn't quite convinced that it's already over, but once some of my classmates came to hug me and said their goodbyes, and my housemates went back home, it finally hit me that I won't see some of these people later on.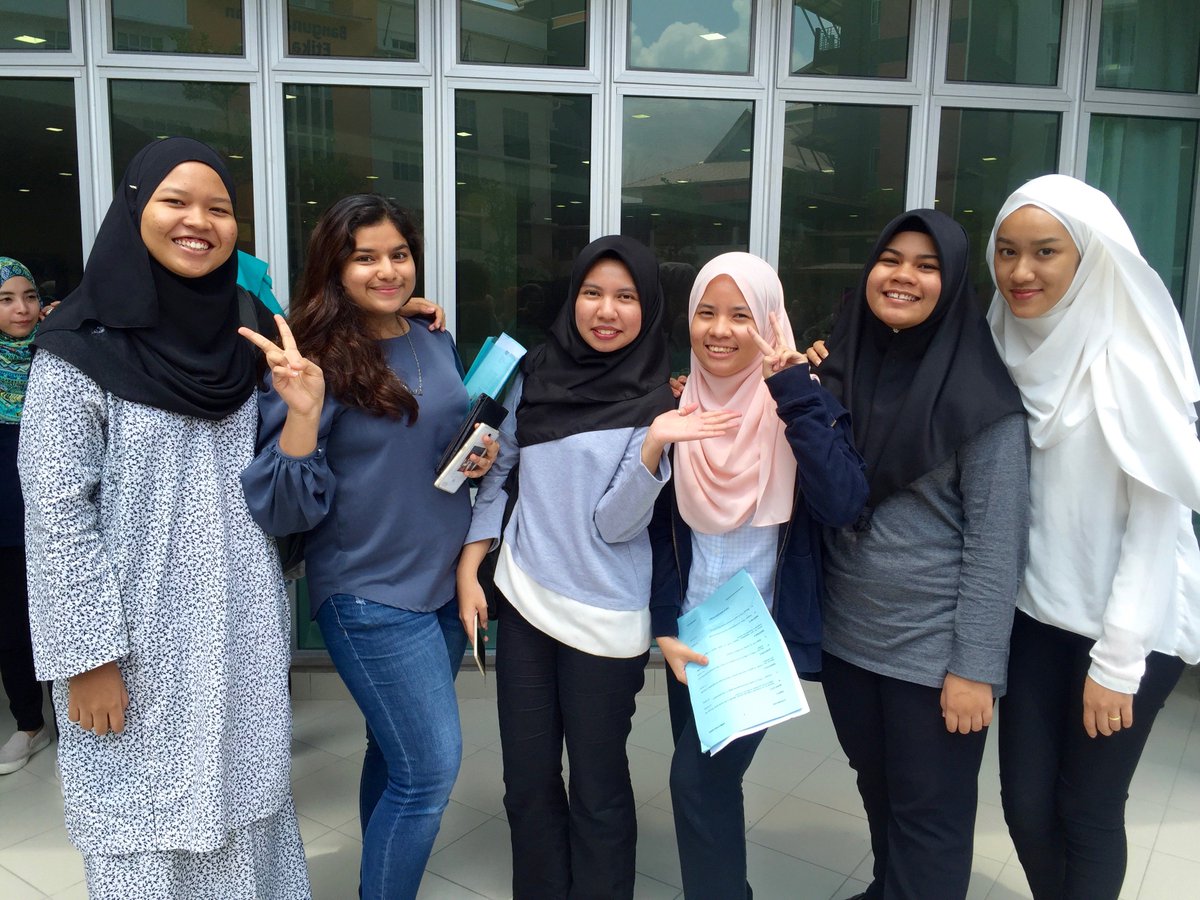 Kown, Rae, Din, Me, Fatin and Su after finals have ended on the 14th of April!
First up! Appreciation moment for my awesome housemates at
D2-5-26
! I still remember how quiet I was during the start of our second semester, mainly because I'm shy and the only person that I knew was Rae and Su. But we grew closer since all of us are crazy and noisy as heck. These people are so wise and smart, and I would go through all the pain in second semester again just to stay in the same house with them! These are the people that didn't show how bored they were when I talked about my same old problems, and they are the people that will give me food and pester me about
(what they said)
my 'bad' way of cooking. Thank you so much guys for everything! Hopefully we will meet again in September Insha-Allah. And here are a few highlights from our moments together!
First photo: Su (my roommate) and I went to Starbucks Alamanda to study, and she wanted to put her name as Beyonce. The barista asked her how to spell Beyonce? And she was like who doesn't know how to spell Beyonce? And tada. Su = Byonsey.
Second photo: D2-5-26 had to use help from good old Kopi-O pekat the night before our LAW088 (Global Issues) finals paper because some unfortunate things happened that night. We had to cramp in a lot, I repeat, A LOT of things because of that unfortunate event that we had to stay up until 3am (I didn't, somehow I slept early at 1am?) and then wake up early the next day. I had the most terrible caffeine hangover and started to have all these tremors that I legit had to go to the exam hall in tears. Then after the paper, we found out that the questions were quite okay. 'Best' prank of the year. But not as good as the lies that have been fed that ECO is easy. Lmao.
Third photo: Our steamboat tomyam + the most amazing maggie we've ever tasted. Din didn't join in because she went out to scout for places to hold her class party at, so it's just the five of us. We bought the tomyam at Lengkuas (the stall beside Cafe Meletop) at Anjung Dengkil and Kown went out to buy the fishballs and stuff. Maggie was a last minute decision, but it was one of the best! Please excuse me for a minute as I cry over the most amazing maggie tomyam and steamboat I've ever tasted. (r.i.p to Su's bowl)
Next up, my classmates for two semesters, LWA01/02E! I made our incomplete class photo as my desktop wallpaper, and here we go. We've stuck together for 10 months and I'm really grateful that I ended up being classmates with you guys. I'm so sorry for lashing out in front of you guys the other day and made you guys uncomfortable and confused. I didn't do my job properly, and I only have myself and my way of dealing with my problems to blame. Thank you for making me look forward to go to class every single day and suffer with everyone. Every single one of you will do amazing things in the near future, and I really pray that everyone will achieve your dreams and have happiness every single step of the way. Here's some highlights of the year!
First photo
: Our iftar outing in Ramadhan 2015 which was our first semester back in UiTM Shah Alam. It was not attended by everyone in our class due to some misunderstanding but it was fun though! Somehow we ended up walking from Masjid Kristal Seksyen 7 all the way to Al-Rawsha which took us a good 1 hour (it felt like more than that haha). It was really memorable because we were all groaning and complaining and when we finally saw the building, it's like seeing an oasis in the middle of the desert. The food was really nice and we bonded over our experience walking all the way there. It's still funny to think about, even now.
Second photo:
Our farewell lunch on the 23rd of March 2016, in our second semester in UiTM Dengkil. We had our buffet lunch at Putrajaya International Convention Centre. I was the one who suggested and handled the venue of the event and thankfully everything ran smoothly. The buffet was really good and everyone can't get over how good the bread pudding was. We even had a Secret Santa event handled by Asyraf and Hakeem and I got a pen to help me memorise things and a poetry book from Assilla and gave something to Hakeem (which in return he gave me a teddy bear!!!). It was a nice day out, seriously.
A rather old photo because we didn't get the chance to take a photo with all six of us in second semester. Probably the people that I hurt the most in this 10 months (maybe with them it's lesser than that) and damn, I regret every single moment and every single stupid words that I spit out and the things that I unknowingly did towards you guys. Thank you for knocking sense into my head. Thank you for putting up with me. I was quite sad that I couldn't see everyone before I left and said proper goodbyes. Thank you for all the help that I've gotten, the tennis game in our first semester, the assignments that we did together. I'm so grateful that I've met you guys. Really. There's a lot of highlights of events that we did together but I would rather keep it to myself.
I had a lot of good memories and also a fair share of some bad memories. I wouldn't lie about it, but I did and mostly it's all about me not controlling my emotions properly. I have these people to thank for, and for making me feel like taking this programme is the best choice I've ever made. Now I don't know if I can do anything else other than Law. This might not be goodbye forever, I'll see you guys in September or earlier than that okay? Insha-Allah. To those whom I didn't post about in this entry, don't worry, you'll still be remembered. :)
And look at how this post quickly transitioned from
bright and happy
to
dark and sad
real quick.